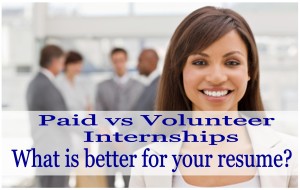 Unfortunately, not much.  Forbes Magazine posted an article in January of 2014, that, according to a survey by the National Association of Colleges and Employers, fresh-out-of-college graduates who completed an unpaid internship were only 2% more likely to achieve full employment than those who never had an internship. However, students who had completed a paid internship, were 28% more likely.
Unpaid internships have become quite the norm. Students want a resume that proves they have had work experience, and companies who do not pay their interns usually do not have real positions to offer.
How can I land a paid internship?
Ryan Kahn, a professional career coach, told Forbes Magazine that "lack of experience should in no way intimidate you from seeking an internship—after all, that's what the internship is for right? Instead, embrace your inner rookie, and use that to your advantage."
Here are 3 awesome strategies to get you a step closer:
1) Get a LinkedIn, and keep up with it!   When the website first came out, it was all everyone could talk about. Although the chatter has died down, it still is in full bloom. Well-known companies and small businesses have profiles, why not you? You never know when they will stumble upon it.   [P.S. Include the URL on your resume, so when a company wants to look you up, they won't confuse you with somebody else!]
2) Create an online presence.   Go beyond researching your favorite companies and dream jobs; give others a reason to stalk you. Cater to your audience on social media, but always remember that professionals will be turned off by too many party pictures or selfies. Lastly, always be yourself. Companies want something unique and fresh, not a wannabe Lauren Conrad fashionista or a wannabe Carrie Bradshaw and so on.
3) Always be friendly and positive.  Your peers in college do not have to be your competition. In fact, one of them might someday help you land your dream career. Also, as qualified as you might be for a certain position, if people cannot stand you, they will have no problem in not hiring you. Smile, it's contagious!
Author:  Lesley Rowland, Smartte Contributor
Sources:
Forbes article: http://www.forbes.com/sites/realspin/2014/01/16/why-your-unpaid-internship-makes-you-less-employable/
http://www.forbes.com/sites/kathycaprino/2014/03/28/how-to-land-a-great-internship-this-summer/
Share and Enjoy