By:  Valerie Stuut, Smartte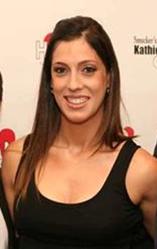 I recently sat down with an amazing woman, Alexandra Weber, and had the most interesting conversation about body image that I just had to share.  Of course, this is a primary topic of mine but I have never seen it from a professional dancer's perspective.  I have always known about the pressure to be thin as a ballerina but I've never realized the self esteem issues that manifested while off the stage.  I hope you enjoy my conversation with Alexandra and gain a new insight into the world of dance and how your dance classes actually may have affected you.
But first, a little background about Alexandra:
Originally a professional ballerina in New York City, Alex earned her BFA in dance from NYU/New School and The Joffrey Ballet Company. Alex studied pilates from the age of 9, then trained and was certified under Master Teacher Romana Kryzanowsa, who was personally trained by Joseph Pilates.
Also trained and certified under Authentic Pilates ® of Pilates Inc. in 2002. Additionally, working with renowned physical therapists and physicians, she gained a better understanding of body alignment and rehabilitation. Alex has become an expert in perfecting technique for professional dance and sports, along with injury prevention using the Authentic Pilates ®. Alex has instructed such clients as the NY Yankees, the NY Jets, the NY Lions rugby team, Viacom, MTV, pilates apprentices, as well as many others.
Alex moved back to her hometown roots of Ft. Lauderdale, Florida in Feb. 2005, married her childhood sweetheart in Feb. 2007, Alex continues her education with Master trainers around the world.
Smartte:  What kind of  tactics or verbal instructions were used to make you feel pressure to be skinny as a dancer?  Were they as literal as a "weigh in" to comments about how you look in your costume?
Alexandra:  We were often compared to each other in ballet class. We were fined part of our pay if we didn't fit properly into costumes that we used to fit into. Everyday was an audition and we had to look perfect even in class.   If we gained weight or didn't diet we were thought of as not dedicated enough to our passion / art.


Smartte:  What things did you do to meet with the pressure?
 Alexandra:  From age 10 I was on a diet.  I tried it all; starvation, diet pills, ipecac….an apple a day sliced in 4= breakfast, snack, lunch, and dinner.


Smartte:  How did this pressure make you feel even when you were not dancing?  Do you still feel it now?
Alexandra:  Often I didn't feel ever good enough or skinny enough. We felt rewarded when we were thin and looked at more. Today, I work hard on motivating myself to not go back to how I used to feel or think back then. I often felt great joy from dancing and accomplishment but, I still fight demons in my head about my body and still work on not comparing myself to others. I teach pilates, xtend barre, ballet, and zumba to help motivate others in a healthy way and keep a healthy strong body today.  Now that I'm older, 35, I want to live a long life for my children and be as strong and healthy as I can be.
Smartte:  What percentage of the time did you feel pressure to have a certain body type / weight?
Alexandra:   It was 80% of the time. It was always in my face; in class, buying leotards, in the dressing room with the other girls, auditioning weekly. I was very blessed and talented from early on. I worked very hard at the ballet technique and because I was a strong athletic dancer I was able to do things with great power that others couldn't. The technique was there but I had to work even harder to maintain my body from injuries and weight gain. Later on after I left a typical Bakanchine company and moved to The Joffrey Ballet where I was accepted for me, a great powerful string athletic All American dancer. Joffrey had all body types and amazing dancers.
Smartte:  Where there repercussions if you did not lose the weight even though you were healthy?
Alexandra:  I was kicked out of Pennsylvania Ballet becaue of weight gain just before my Senior year of  high school. I was ignored in class like I didn't exist becaue I gained weight that year.
Smartte:  Do you feel that dancers need to be that "skinny" vs having a healthy body weight?
Alexandra:   Dancers do need to be somewhat thin but a healthy strong thin. Men must be able to lift them. Some have it naturally but, there is a right and wrong way to stay in shape. Clean eating is key and cross training workouts geared for you.
Smarrte:  Do you think that social role models contribute to overall body image for women today?
Alexandra:   I do, especially young girls. We rely too much on a teacher's or other's approval or what the media thinks we should all look like. We must accept who we are and love our individual beauty with all our imperfections that make us unique. Dancers are raised with a fear of keeping the perfect body or to please other people before themselves. I was always a people pleaser.  I love some of the  new ballet role models who are breaking the mold like Misty Copeland of ABT, and shows like So You Think You Can Dance.
Smartte:  As a mom, how are you going to instill a positive body image in your daughter, especially if she wants to be a dancer? 
Alexandra:  Being pregnant was tough for me, twice. It brought back many insecurities of my past. I enjoyed my second pregnancy much more. I get asked everyday if I am going to put my daughter in ballet. She is only 15 months old but, I know ballet is in her blood. She and my son, now 5 years old, dance around the house together and watch the dance shows with me almost more seriously than me.
My daughter is in the 95th percentile for being tall in height for her age so as of now she probably wouldn't be heading in a ballerina's direction…maybe Broadway or Rockets (where taller girls are allowed). I will start her in dance but if she doesn't like it she will let her stop.  Also, I am allowing both my children to get as much experience and variety in many extracurricular activities and all different types of dance too. Ballet helps with discipline, being poised, French (lol), many great things for women….
I want to encourage all her talents and nurture them. I want her to find what she loves as I was able to. I feel I was just lucky that I was put into dance and good at it, it was my love, my passion and my escapee from my parents early divorce. It was my go to….  Both my husband and I work very hard so our kids can try a variety of activities and hope they will find what they love.
Smartte:  Being a health / dance instructor, do you see women today pressured to be "skinny" vs being healthy?
Alexandra:  Yes, especially my mommy friends after pregnancy. It's like a race to see who can get thin the fastest after their baby. It's a pressure all in its own. Every person's  body is different and may be on a different timeline…consistency in workouts, clean eating, lots of water, rest, and caring for yourself  are key.
Smartte:  How do you think we can change the social body pressure away from being "skinny / sexy" to being healthy?
Alexandra:   I think we all need to change how we view each other. Most of us try to compare ourselves with others or a picture that may be photoshopped. The ultra thin ballerina or model is not the norm. I believe we all must think more about our future bodies being strong and full of energy for a longer life and good health all around. I now question everything as to will it help me live to see my great grandchildren and stay clear from fad diets or harmful ways of dieting. 
Smartte:  What do you think we can do to make sure the next generation of young women grow up in a society where they don't feel the pressure to be "skinny" or "sexy" but to the healthy and smart.
Alexandra:  Things are and have been changing in the dance schools to offer better solutions to diets like; pilates, cross training and nutrition classes for all the young girls. If everyday young women were also fed more smart information on how to care for their bodies just like new young dancers now have then maybe they would make wiser choices for themselves.
Dancing can help build self confidence. The all new dance fitness craze is booming for a reason…it works, it's fun, and it builds confidence with classes like xtend barre, pilates, zumba, adult ballet, etc. College dance programs are producing more and more professional dancers who have also pursued and received a college education. More young girls need to know you can do both or it all, many coming out with double majors. We need constant reminders in our face of motivational words and stories daily. I'm in the business of making bodies fulfill the longest life with as much energy as possible. I think everyone needs a great role model who has succeeded at the goal they are after. Seek skills you are good at and follow your passions. Don't compare to anyone…be the best you every day. I hope more women will encourage each other as well. 
Click here to be a Smartte Insider and subscribe to the Smartte Newsletter TODAY!
Share and Enjoy